B&B accommodation
We offer one bedroom and large bathroom en suite (bath only, no shower) with lovely views. Our hot water is recycled rainwater from the roof and, although sometimes slightly brown in colour, is delightfully soft for bathing. There is an additional twin-bed room offered only in conjunction with the main bedroom as the bathroom is shared eg: for a family or more than two visitors travelling together. Dogs and children are most welcome.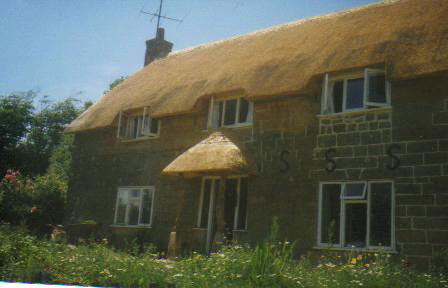 Vegetarian or special diets can be provided with prior notice.
The rooms are simply decorated with patchworks and coir carpets. Organic paints and bed linen are used throughout the house. The bedhead and dining table are made from ash felled on the farm and finished in natural oils.
There are coffee and tea making facilities in both rooms and a radio but deliberately no television so that the birdsong and the sounds of the countryside can be appreciated. There is a television elsewhere in the house, which can be viewed by the desperate, by arrangement! In Summer a sitting room is available during the day until 8pm.
Booking
A deposit of 30% is required on booking. Becklands is closed at Christmas and we do not take single night bookings over bank holiday weekends or during July and August except 24 hours beforehand.
Rates
*£80 (single person rate £65) per single night (No single night bookings in July and August or bank holidays), including full English breakfast.
*£75 (single person rate £60) per night for two nights or more which includes a fully organic English breakfast with organic cereals, Becklands Farm eggs and beef sausages, homemade organic marmalade and jams.
*If a cooked breakfast is not required for all parties and notified before arrival the room rate can be reduced by £6.
Our B&B accommodation is certified organic by the Soil Association.
How to book
Please call Hilary Joyce on 01297 560298 or email becklandsorganicfarm@btopenworld.com with any further queries or a provisional booking.